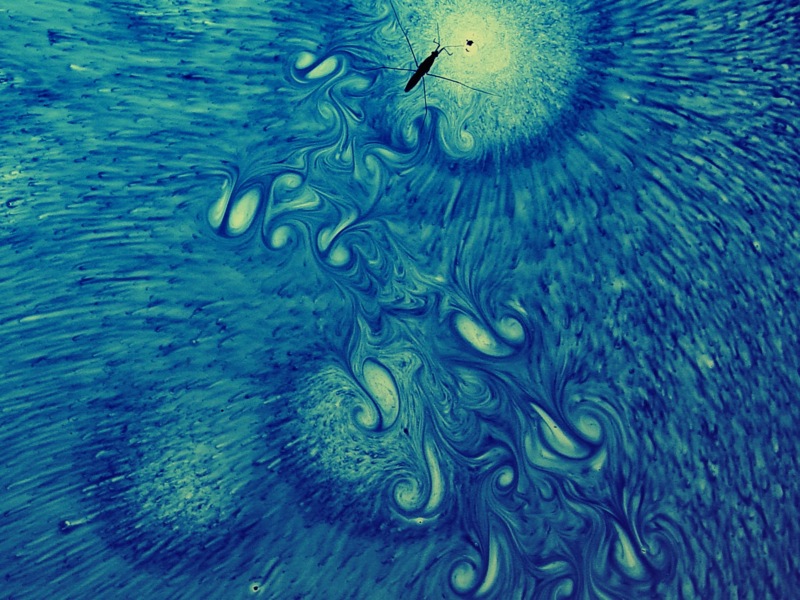 2019-20 York University Biophysics Contest
Click Here to Register
First Prize $1250 - Second Prize $300 - Third Prize $150
Deadline: Extended to Midnight, May 15, 2020
Image: Vortices in water caused by a water strider's motion.
Credit: Hu, D., Chan, B., & Bush, J. 2003, Nature, 424, 663.
York University's Biophysics Contest for High School Students
Overview
Big Picture
Posters should creatively display information to viewers in an eye-catching-easy-to-digest manner. Posters should tell a "story" visually (i.e., via effective graphics), demonstrating a cohesive and logically structured narrative. While some text can play a vital role, it is (strongly) suggested that text not be the central feature of the poster, and thus be kept to a minimum (i.e, a few well-chosen words).
A potential scheme for posters would include background information about the chosen physical concept, an introduction to the associated biological/biomedical idea or application, and details about how that gap is bridged.
Examples of possibilities (noting this is not a exhaustive/comprehensive list!):
Physical Concept
Biological/Biomedical Concept
Energy
Cell Division

Metabolism

Cellular Respiration

Waves
Microscopy and Imaging

Hearing

Vision

Speech

Entropy (e.g., disorder)
DNA Packaging

Cell Division

Equilibrium
Predator-Prey Systems

Migration

Interactions of Light with Matter
Photosynthesis

Fluorescence

Circadian Rhythms

CT Scanning

Cancer treatment

Electrical Circuits
Pollination (e.g. bees sensing electric fields)

Touch

Muscle Activity

Neural Signalling

Neural Networks

Cell Membranes

Binary States
Genetic Code

NMR

Force
Hearing

Locomotion

Untangling DNA (e.g., laser tweezers)

Pressure
Plant Absorption of Water

Flight

Cell Size

Echolocation

Diffusion
Brain Activity

Synapses
Who Can Participate?
The contest has two divisions: Junior (Grades 9-10), and Senior (Grades 11-12). You may work in a group of 1-4 students, but all students in the group must be in the same division, i.e., from either Grades 9-10 or Grades 11-12. All members of the group must be students currently enrolled in an Ontario high school.
Registration
Prizes
For each division (Junior or Senior), there will be 1st, 2nd, and 3rd place awards, as well as honourable mentions. Prizes will be awarded to the winners as follows:
First prize: $1,250, of which $1,000 goes to the student or student group and $250 goes to their school's science department.
Second prize: $300 for the student or student group
Third prize: $150 for the student or student group
Awardees will be invited to York University for an awards ceremony once it is safe for the University to re-open. With permission of the authors, winning entries will be displayed at York University and on an associated website.
What to Submit
Submissions must have two components:
A single-sheet "poster". Even though we refer to it as a "poster", your submission must be 11x8.5 inches (or 8.5x11 inches if you prefer portrait layout) and appear legible when printed out (e.g., generally avoid using font sizes smaller than 20 points; do not cram in text).  Each poster should include a title, as well as the names of the students, what grades they are in, their school, and a contact teacher at the school.
In addition to the poster, you must include a single page (as an additional 8.5"x11" page) that lists all references, whether it be sources of information used or figures present on the poster (unless you created them from scratch yourself). It is imperative that you clearly delineate content you created versus that made by others. All referenced figures and information should be clearly denoted on the poster with a small font (10 point font) identifying with a superscript number the corresponding reference on the reference page (i.e., endnote-style).
Method of Submission
Deadline
Judging
Winners will be selected based upon creativity, concise delivery method, logical development and overall content of their poster. Each division (Junior and Senior) will be judged separately. All posters will be judged by a panel of students (both undergraduate and/or graduate) and professors at York University. Presentations will be judged on the basis of:
The depth of understanding of the topic.
How well the physics behind the biology is described.
Adherence to the rules of the contest.
Here are some suggestions:
Make sure figures have sufficient resolution to not pixelate when printed at the appropriate size.
When using material (e.g., concepts, artwork, figures) that are not your own, it is imperative to provide appropriate citations of the sources. Furthermore, it is important to determine what sources are appropriate versus those that are not. Do not overlook popular and easily accessible sources of information (i.e., textbooks, websites, news, etc.), but should ensure that they are indeed reliable and grounded in accepted fact.
Get feedback! The more critical the better. Show your poster to friends, family, teachers, everyone. And get them to tell you what they do NOT like (e.g., "This isn't clear", "I'm not sure that makes sense to me"), and listen carefully. Don't take any critical input personally. In fact, take it as the opposite: It is really valuable! This will allow you to refine/retool (or just as likely, totally scrap and start over again!). The best entries may well be the ones that really capitalize off critical/constructive input received from others.
Contact