Nanotechnology
Tiny Tools
Study biomolecules, cells, and organisms with nanopores, microspheres, and magnets.
Here are some innovators.

Nanopore-based electronic systems for analysis of single molecules, including sequencing of DNA.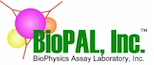 Microsphere technology for measuring blood flow through neutron activation; Magnetic particle technologies for immunoassays, RNA separation, and cell sorting.

Magnetizable microbeads for studying behaviour of micro-organisms in biofilms.